Create Efficient Reports Without Compromising Any Details
THE HOME INSPECTOR CHECKLIST 🔎
If you're a home inspector, this checklist will help you create multiple inspection reports in a more efficient way and prevent you from reinventing the wheel every time you have to write a new one.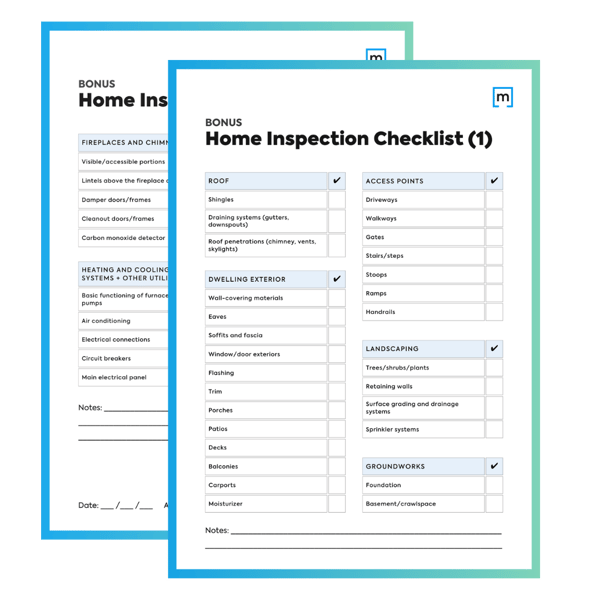 Dwelling Exterior
Roof
Access Points
Groundworks
Plumbing
Electrical
Thermal Envelope
Fireplaces and Chimneys
Heating
Cooling Systems
Utilities
Other
Dwelling Exterior
It covers all the elements of the property's front, sides, rear, and surrounding area.
Roof
The less you walk around up there, the better for the roof and the safer for you. In this section, you will find which roof elements to inspect.
Access Points
Have better visibility of all access points of the property to be inspected.
Groundworks
Help provide key insights into the home's construction, as well as a chance to prevent costly repairs later on.
Plumbing
Visual inspection of all water and sewer fitting items that you need to inspect for leaks or signs of leakage.
Electrical
Provide a thorough examination of the entire electrical system, ensuring all electrical wires, systems, and components (such as appliances) meet legal safety standards.
Thermal Envelope
Elements you need to inspect in order to identify issues, test for moisture, perform thermal scans, and
inspect air barrier and exterior wall details to determine the cause of moisture and air leakage issues.
Fireplaces and Chimneys
To figure out if these parts of the house need cleaning or if there's visual damage.
Heating
Visually inspect thse systems and note any superficial issues with age or performance.
Cooling System
Visually inspect these systems to note any superficial issues with age or performance.
Utilities
Here you'll find all the other utilities that must be inspected.
Other
Find other major property elements that must be included in your inspection report, plus many others that your client will appreciate.