Founded in
10+ years on the market
2010
International Offices
We're global
4
Nationalities
Diverse team
20+
Office dogs
We welcome pets!
6
We're international.


Join us

remotely

or in one of

our

offices.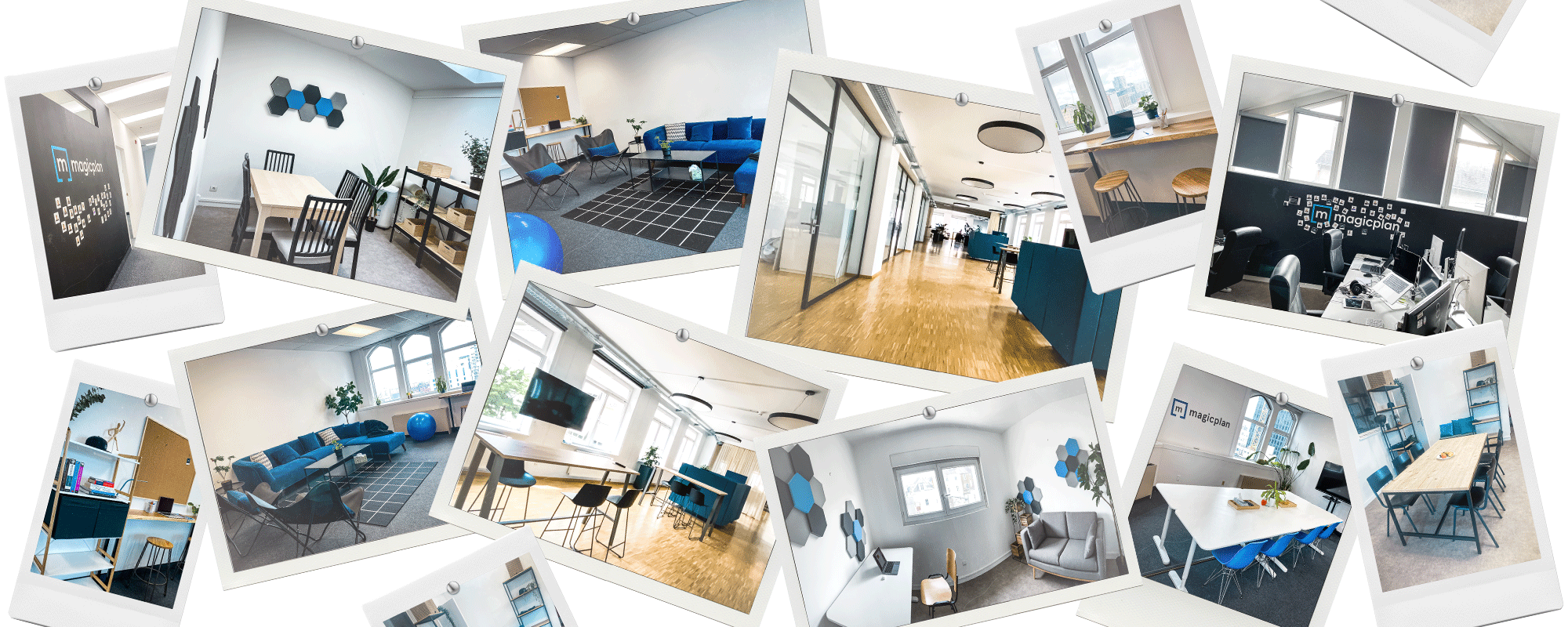 Employee Testimonials
See what our employees have to say about us
"magicplan has supported the development of my career, by providing me with the time and capacity to complete my Master's degree and further my knowledge in labour law. I have been able to find the perfect position that caters to my strengths and pushes me to also continue my learning."
"Not only do I enjoy working with everyone professionally but also really appreciate my teammates personally as well. We have a very unique and diverse set of employees and there is always so much to learn about new people and cultures when working at magicplan."
"I don't have any hesitation to reach out to other colleagues for support and feedback. It feels just right to work in a place where communication is easy."
"I've been given the opportunity and space to learn new softwares, implement my own marketing strategies, and even a budget to explore those options. I feel trusted but also protected so that I can grow in my position."
"Having a live product that is constantly changing motivates me and working with such an innovative team is the most rewarding experience."
"We have so many colleagues with different cultural backgrounds and from different countries - I think this diversity is hard to find elsewhere! I love it!"
"magicplan has helped me by giving me the opportunity to practice my new profession. Getting my first job as a UX designer was a bumpy ride and I'm really glad I ended up here."
"It still feels cozy and welcoming to work here because people are treated correctly. Working here for almost 3 years I can see the great empathy of our leaders."
"I started working in Montreal, and had to move back to France because of the pandemic. I was fully supported by magicplan during the whole process, and I never felt any pressure or tension about the situation."
"During my hiring process I noticed a lot of care and consideration. Right after that I had the chance to know the leaders of my team, and I came to understand that they were knowledgeable, goal-oriented, humble and kind people."
"Working at magicplan has been an incredible journey, where innovation meets teamwork and creativity knows no bounds. I feel privileged to be part of a company that values its employees and provides a platform to make a real impact in the industry. It's been a pleasure to work here for the past 6 years, and I am excited for the following years to come!"
"magicplan has been one of the most rewarding places to work. In such a short amount of time I've learned more about systems and strategies within the app. The management is awesome and the on-going training has been so beneficial to me."
"magicplan has expanded my knowledge in the technology space and given me the opportunity to hone my skillset. It is a workplace that invests in their staff and values collaboration across borders, oceans, and cultures."
"This job has given me so much of my life back while providing a great deal of learning opportunities, support, and flexibility. I am beyond happy to be working for magicplan."
"When I joined magicplan, everyone was nice and welcoming. Giving me the confidence to work on my own and perform to my best abilities. Having great team leader, made my job much easier. magicplan is like a small family and gives me the tools to make me succeed."
"I've always felt appreciated and the trust people here place in me/my work has never been taken for granted. I'm really happy to be part of magicplan!"
"When I was asked about my career, my goals, and what I wanted to get out of working for magicplan - this moment was clear to me that my team and leads were focused on helping me develop as a professional and valued my thoughts and feelings."
"The people are my favourite part of the job. Creating a space for them to learn, produce, develop while having the autonomy and freedom to stay creative is by far the best work cultures I'm proud to be a part of. Its not often you find your voice and place in an organization especially of a larger size!"
What's in it for you
As a builder of world-class technology, we aim to take care of our teams the best we can.

Discover some of the benefits we provide.
Hybrid Work Model
Flexibility of in-office and remote work for a better work-life balance.
Workcation
Work from anywhere for up to 90 days a year.
Development Budget
Yearly development budget and two additional paid days off for your personal development.
Inclusive Team
Supportive and welcoming work environment with 70+ employees worldwide and over 20 different nationalities.
Language Classes
Free language courses in German, English and French to encourage open communication between team members.
Other Benefits
Health insurance coverage contribution and pension plan matching available.

*Depending on country of residence.
Meet our departments
Learn more about our teams
here at magicplan
People & Culture
Our people are the very core of magicplan. It's what makes our product and culture so great. Our People & Culture department focuses on furthering your development and making things run as smoothly as possible. Our goal is to be one of the top tech employers!
Product & Development
We are the architects behind magicplan. We design new features, keep an eye on usability, and make sure projects keep moving forward. Our goal is to solve real problems by delivering an intuitive, easy-to-use product that enables our customers to grow their business and meet customer demand.
Research
We are bridging the gap between academic AI and industry. We make it easier to translate the basic machine learning research into the magicplan app. We conceptualize the Augmented-Reality (AR) and Artificial Intelligence (AI) features of magicplan to assist in the processing and categorization of data, and add new features such as object detection, room layout estimation and auto-furnishing room.
Sales
We bring magicplan to contractors and businesses looking to digitalize their projects. This begins by consulting prospects, and showing them how our AR room scanning becomes a digital blueprint to start their project planning. Our goal is to solve real problems by delivering an intuitive, easy-to-use product that enables our customers to grow their business and exceed their expectations.
Customer Success & Account Management
We are the main point-of-contact for our customers. We answer questions, provide product and technical support, and share best practices. We create educational materials to help you get on board with magicplan. We also establish ongoing relationships with our clients as their businesses grow.
Marketing & Design
We bring the magicplan vision to both our prospects and our users. We keep them up-to-date with any new features and product updates. We create a range of dynamic content to showcase best magicplan use-cases for different businesses and industries.
Recruitment Process
How magicplan hires
During the hiring process you will meet multiple people from our team and get to know our culture better.
Ensuring a great fit on both sides is our main goal.
1
Submit your application
Include all recquired documents and relevant work history.
2
Preliminary call with HR
Our recruitment team will reach out for a first phone interview.
3
Meet Hiring Manager
You will meet your hiring manager over a call or an in-person interview.
4
Final Interview
This might include meeting your teammates and the management or preparing a short task.
5
Offer
Pending the successful completion of previous steps you will be presented an offer!
Our job openings
We're looking for new talent,
join our team!

We currently have no open positions.
Please email us if you think you'd be a good match and want to chat!
Got questions?
Reach out to our People & Culture Team. They will be happy to answer any questions you have.