THE CONTRACTOR'S E-BOOK
Kitchen Remodeling Project A-Z
Professional kitchen remodels are enormously popular with homeowners for multiple reasons. This FREE ebook will help you accelerate your business revenue by completing kitchen remodels that exceed your customers' expectations.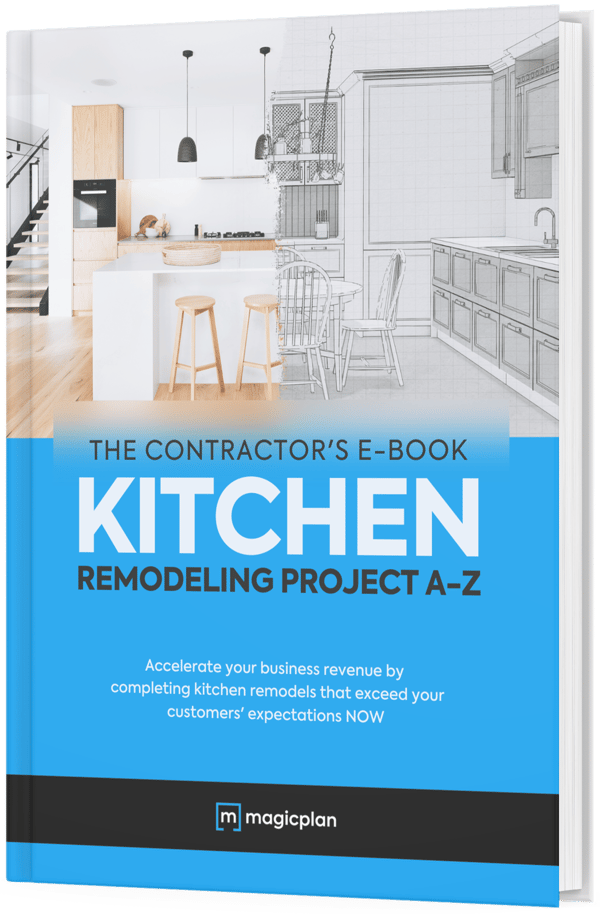 01

Suppliers & Price List

02

Building a Portfolio

03

Initial Visit

04

Kitchen Layout

05

Detailed Planning

06

Project Estimate

07

Rough Construction

08

Wrapping Up
Material Suppliers & Price List
Choosing the right supplier can be one of the most challenging decisions a kitchen remodeling contractor has to make and involves much more than sifting through a series of price lists. The right supplier means that you're able to deliver your projects on time, that you are receiving the optimal price to meet your needs, and that the quality of the materials is suitable to meet your customers' expectations. On the other hand, selecting the wrong supplier can affect the satisfaction of your deliveries to your customers and your business reputation.
Building a Kitchen Portfolio
As a kitchen remodeling contractor, one of the most important marketing tools you have at your disposal is your portfolio. Your portfolio is a collection of photos and information about your past projects that you can show online to prospective clients to help them see the quality of your work. A good portfolio will give you instant credibility. It will answer any questions a prospect has about your experience and expertise. And it will help you close more sales. If you don't have a strong portfolio, you'll likely lose out to other contractors who do. So make sure you take the time to put together a portfolio that really showcases your skills and experience.
Initial Visit To The Homeowner
One of the best ways to gain a new customer is to visit their home and get an idea of their vision for their dream kitchen. However, simply showing up to the meeting is not enough. You need to be fully prepared in order to make a good impression and stand out against other contractors. Luckily, there are a few key things you can do to increase your chances of success, and we'll talk about those things in this chapter.
Kitchen Layout
Design and construction are so intertwined, yet they seem like worlds apart. One involves developing a plan, and the other puts it all together. But if those two processes don't have a great line of communication, the end product will never look that good. The key to communication between design and construction is having a solid kitchen layout.
This chapter will discuss the importance of ergonomics in a kitchen layout. We will also look at the different types of kitchen layouts and how to choose the right one for your customer's needs.
Creating a Detailed Plan
After the customer has decided to work with you, it's time to start planning the project. This includes drawing up a floor plan of the existing kitchen and proposed layout. This will help you determine the materials you'll need and how much work will be involved. Download the ebook to learn more.
Kitchen Project Estimate
There is no such thing as an average kitchen remodel cost. Kitchens come in all shapes and sizes, and makeovers can range from minor refreshing to expansive, high-end, magazine-worthy renovations. With every project being one-of-a-kind, accurate estimating is crucial to ensure a profitable outcome. So, in this chapter, we'll walk you through the process.
Hands-on: Rough Construction
The next step is to begin the rough construction phase of the project. This includes sourcing cabinets and countertops, demolishing the existing kitchen, completing structural changes, and addressing the drywall, painting and flooring. But before any of this work begins, you'll want to create an itinerary, decide who is going to do what, and figure out if you will need to hire subcontractors.
Wrapping Up The Project
After all the planning, designing, and rough construction, it's finally time to finish your customer's kitchen remodel project! This can be an exciting and nerve-wracking time as you see all your hard work come to fruition. But don't worry. In this final chapter, we'll guide you through the process so everything comes together perfectly.
ESTIMATE TEMPLATE
Master Kitchen Remodel Estimates: Win More Jobs
Enhance your contractor skills with our e-book, which will show you how to develop compelling kitchen remodel estimates that captivate clients and secure more jobs.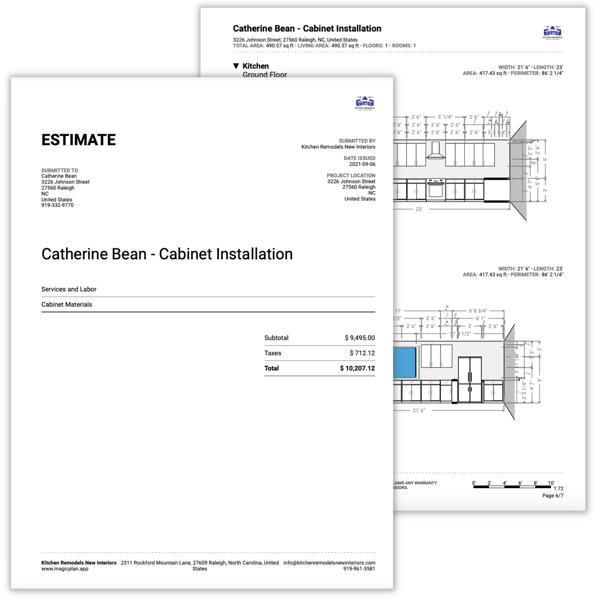 GRAB YOUR COPY FOR FREE 📘