Xactimate® Integration
Send magicplan sketches directly to Xactimate® for faster claims submission.*
Send your magicplan sketches to Xactimate® in seconds.
magicplan allows restorers and claims professionals to export floor plan sketches and photos directly to Xactimate®.
Use magicplan to create instant floor plans
State-of-the-art measuring and sketching

Collect measurements using magicplan's state-of-the-art AR, and LiDAR supported workflow.
Easy-to-use mobile interface
magicplan's easy-to-use interface empowers everyone on the team to edit plans on their phones or tablets.
Use Xactimate® to handle property claims
Xactimate® is the industry's leading solution for property claims estimations.
Measure, scope, and document a loss

Use up-to-date and reliable local pricing research

Calculate depreciation, waste, time, and materials on every project
Export your sketches in seconds
Seamless data transfer to Xactimate®
Exporting a floor plan to Xactimate® only requires a tap of a button in the magicplan application.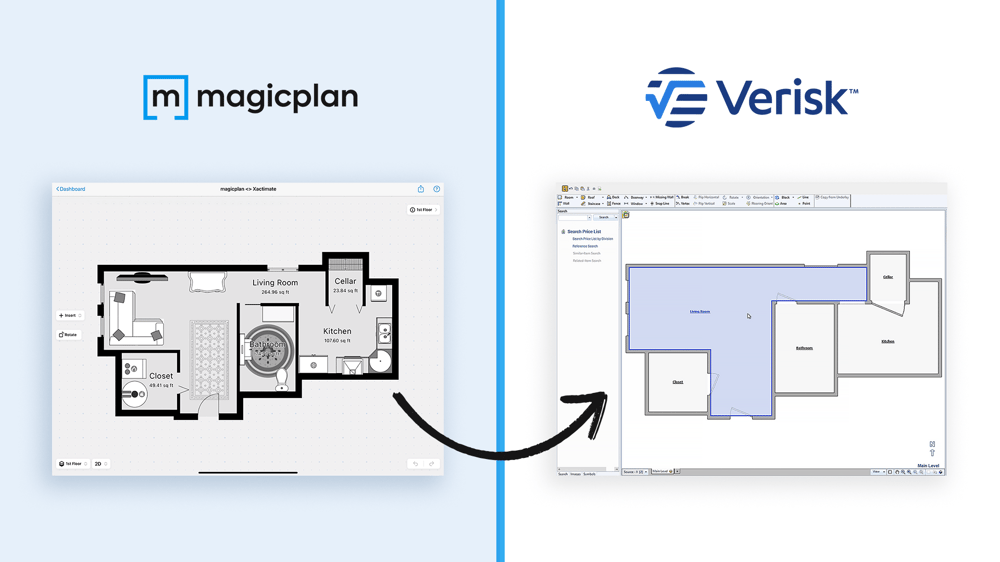 Export sketches in 3 easy steps:
Scan a room in magicplan using your mobile device
Create a project in Xactimate

®

& request data from magicplan
Export sketch from magicplan & confirm import in Xactimate

®
MAGICPLAN l XACTIMATE®
Instant Sketches for Faster Claims Submission
Fill out the form below and we will reach out to you with more information on how this integration can optimize your business.
Already have a
magicplan account?
Activate the Xactimate® integration in your workspace settings.
Scanning with a mobile device
SCANNING TUTORIALS 📱
*Subject to additional charge. Contact our sales team to learn more.
New to magicplan?

Sign up for free today.