CoConstruct Integration
Quickly collect measurements with magicplan and send them to CoConstruct.


Create Estimates with magicplan and CoConstruct
magicplan allows builders to send measurements from magicplan to CoConstruct via a secure API connection. Then, as a CoConstruct user, you can use these data points as parameters when estimating. As a result, creating Estimates will be as fast and easy as never before.
Use magicplan to collect precise measurements for your projects
State-of-the-art measuring and sketching
Collect measurements using magicplan's state-of-the-art AR, and LiDAR supported workflow.
Easy-to-use mobile interface
magicplan's easy-to-use interface empowers everyone on the team to edit plans on their phones or tablets.
Seamless data transfers to CoConstruct
Transferring parameters to a corresponding CoConstruct project only requires the tap of a button in the magicplan application.
Use CoConstruct to manage your building projects
CoConstruct keeps you on top of your projects and in control of your business from the office or the field. CoConstruct helps the builder community manage their projects, streamline the financials, communicate among project stakeholders, and improve its operations.
Less time spent on data collection and estimate creation.
No more multiple site visits with a mobile measuring and sketching solution.
Use smart templates, send out estimates faster and win the bid.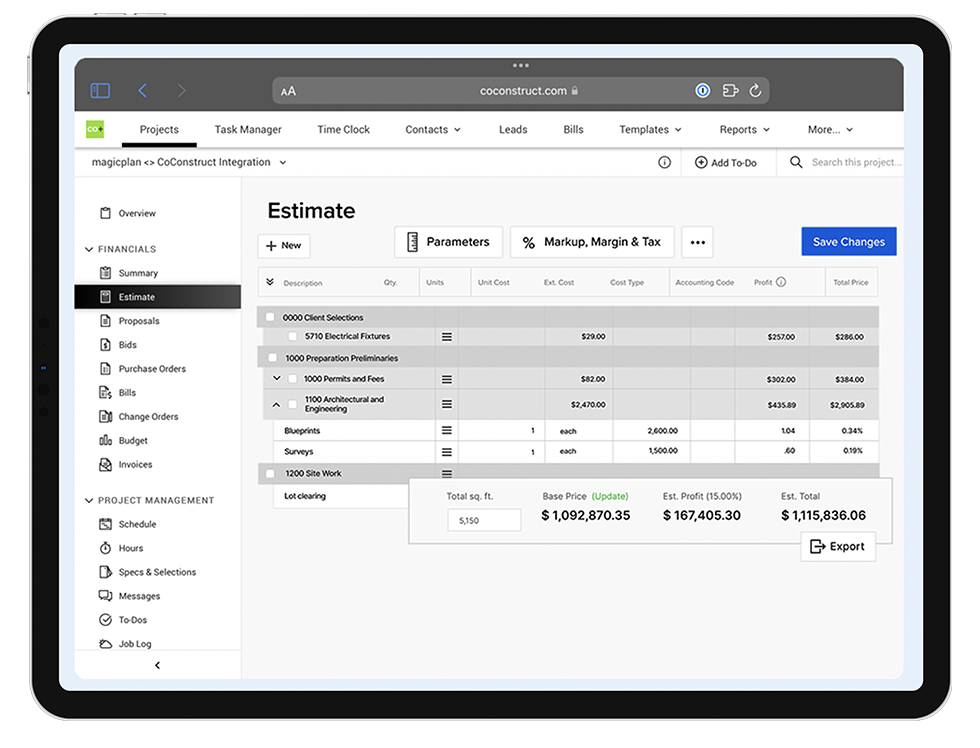 Already have a
magicplan account?
Activate the CoConstruct integration in your workspace settings.
New to magicplan?

Sign up for free today.