Flooring With Zero Waste
How to Succeed with a Flooring Business
This guide is designed to help you make the most of that opportunity by focusing on important steps of project planning and execution. Whether you are a seasoned flooring expert or someone who is just launching a new business, you'll discover up-to-date advice that is beneficial for your bottom line.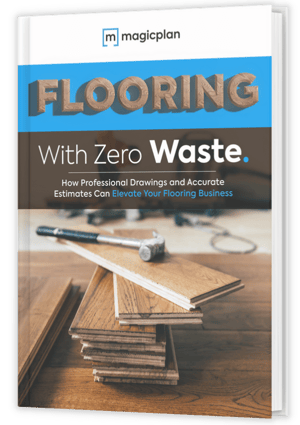 01

Planning and Executing

02

Professional Job Drawings

03

Best Practices for Estimating

04

Tips and Tricks for Impressive Jobs
Planning and Executing Successful Flooring Jobs
As a flooring expert, you already know the importance of proper planning when executing a successful flooring project.
In this chapter, we will go through all the steps necessary to not only ensure that the job is done on time and on budget but also to avoid problems that can increase costs.
The Power of Professional Job Drawings (Ditching Hand-Draw Sketches)
Roughly drawn sketches of residential job sites just aren't adequate any more. So, it's time to investigate a faster, easier, better method. Find out in this second chapter.
Best Practices for Estimating New Projects (Ditching the Calculator)
In the world of flooring, accurate and efficient project estimating is crucial for success. Not only does it ensure that you are able to bid on projects with confidence, but it also helps you win new business and build a reputation for excellence.
Tips and Tricks for Impressive Flooring Jobs
In this chapter, we'll delve deeper into various strategies you can use to impress customers and deliver outstanding results. Also, you will learn modern flooring companies are doing to close more deals,
EXTRA BONUS
Flooring Project Checklist
Get the Quick Flooring Business Checklist from this guide! It's a convenient reminder of all the important steps to successfully complete the job and keep your client delighted with your work.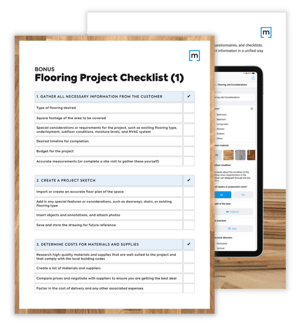 GRAB YOUR COPY FOR FREE 📘