Documenting Fire and Explosion Scenes🔥
Tracing Fire Footprints
Develop clear strategies for day-to-day operations with these practical tips and best practices to master documentation techniques, origin and cause determination, witness interviews, and more.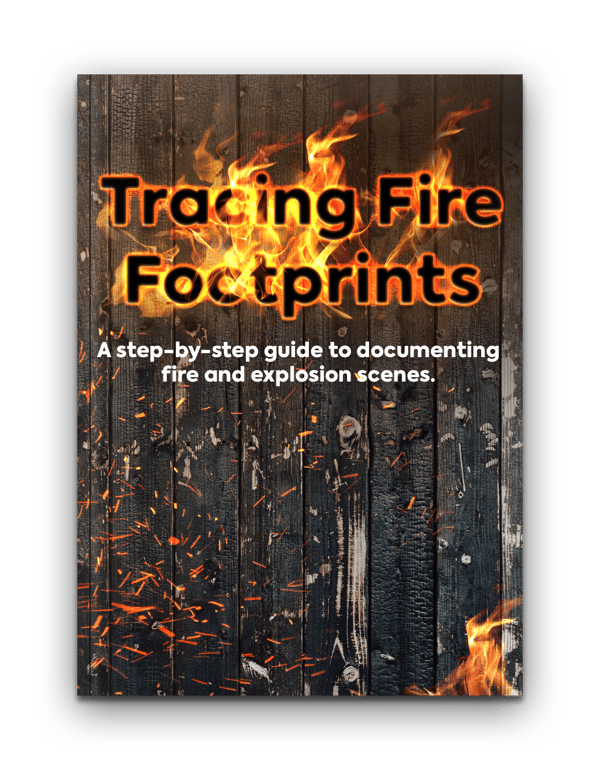 01

Preparation & Arrival at the Scene

02

Documentation Techniques

03

Origin and Cause Determination

04

Witness Interviews & Collaboration

05

Presenting Reports
Pre-Investigation Preparation & Arrival at the Scene
No investigator should enter the scene until an appropriate risk assessment is conducted. The scene must be declared safe by the fire department, and supplies of gas and electricity should be switched off before the investigation begins. When it comes to actually examining the fire-impacted home, where does the fire investigation process usually begin? Find out.
Documentation Techniques
When an investigator is working at a residential fire scene, he or she should gather three types of visual documentation: photographs, videos, and a detailed floor plan. All three demonstrate the investigator's expertise, and also bring credibility to that person's observations and conclusions. Discover the best tips and practices.
Origin and Cause Determination
This section delves into the process of uncovering the underlying causes of fire and explosion incidents by examining the patterns they produce, the significance of evidence collection and preservation, and the application of the scientific method in fire investigations to ensure accurate and objective conclusions.
Witness Interviews and Collaboration with Fire Officials
Witnesses may be able to provide details about where the fire first appeared, how it looked, who was present, the possible cause of the fire, and the conditions or events leading up to the fire. Multiple people may need to be interviewed, including firefighters, police officers, occupants, and eyewitnesses, such as neighbors and passersby. Each interview should involve collecting a comprehensive statement from a single individual, out of ear shot of other witnesses. Learn more.
Presenting Investigative Reports
Investigating and documenting residential fires is a routine function of fire departments and insurance companies nationwide. The main purpose of an investigation is to pinpoint the origin of a fire and determine the likely cause. In this section, we provide a brief overview of two important aspects of documentation.
BONUS INCLUDED 📋
NFPA 921 Compliant Fire Investigation Form
Utilizing this form can help you maintain consistency and adhere to best practices while conducting an investigation.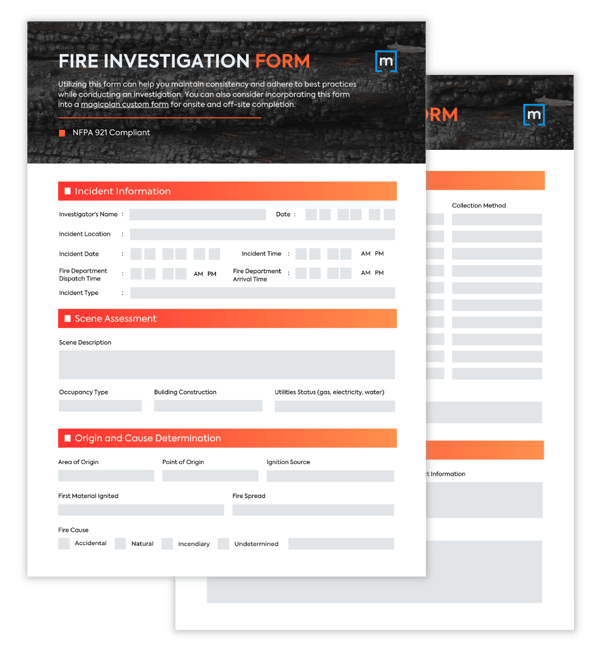 GRAB YOUR COPY FOR FREE 📙