Practical Techniques and Tips for Faster, Full Claim Payouts 💰
Blueprint to Faster Mitigation Estimates Guide
As a restorer, you may find the estimate creation process challenging, but this guide is here to help you streamline it using Xactimate®. Our guide covers proven strategies, effective software tools, and insights to optimize your workflows, ensuring that you get paid faster and in full.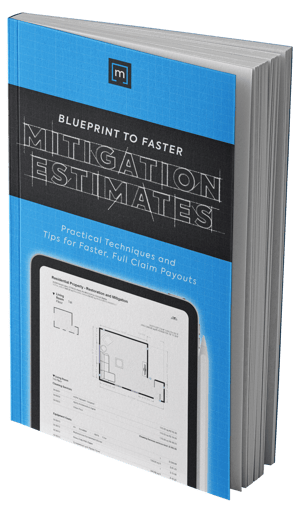 01

Mastering Digital Estimation

02

Line Item Selection

03

3rd Party Estimators

04

Collaboration Tools for Estimation
Mastering Digital Estimation Tools
Receiving prompt compensation is crucial for success in the restoration industry. Tools like Xactimate® and CoreLogic provide digital, standardized estimates that are preferred by insurance companies. By relying on such estimates, restorers can work efficiently and precisely, which is key to achieving success in the industry.
Strategizing Line Item Selection
Xactimate® has more than 27,000 line item codes – i.e., pre-defined components representing specific tasks and materials. In this section, we'll focus on highlighting things you can do to alleviate line item search frustrations when addressing restoration projects.
Working with 3rd Party Estimators
Working with third-party estimators can be a strategic move to enhance the efficiency and accuracy of the claims estimation process. This section delves into the scenarios when it's beneficial to consider third-party estimators and how to establish a productive working relationship with them.
Selecting Collaboration Tools for Estimation
Identifying the right collaboration tools is crucial for a seamless working relationship with your team members and other stakeholders such as third-party estimators. Find out the right tech stack for your restoration business.
EXTRA BONUS ✅
Roadmap to Advanced Estimating: Mastering Xactimate® as a Restorer
Embark on a transformative journey to become an Xactimate® expert with our learning roadmap!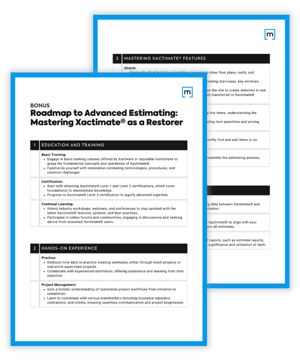 GRAB YOUR COPY FOR FREE 📘