A Handy Guide for Effective Project Management and Collaboration
Managing Projects Efficiently with magicplan
If you are in charge of managing construction-related work for homeowners, you are no stranger to the complexities that come with residential projects. This guide will help you understand how magicplan enhances your team's efficiency, facilitates collaboration, and leaves clients amazed.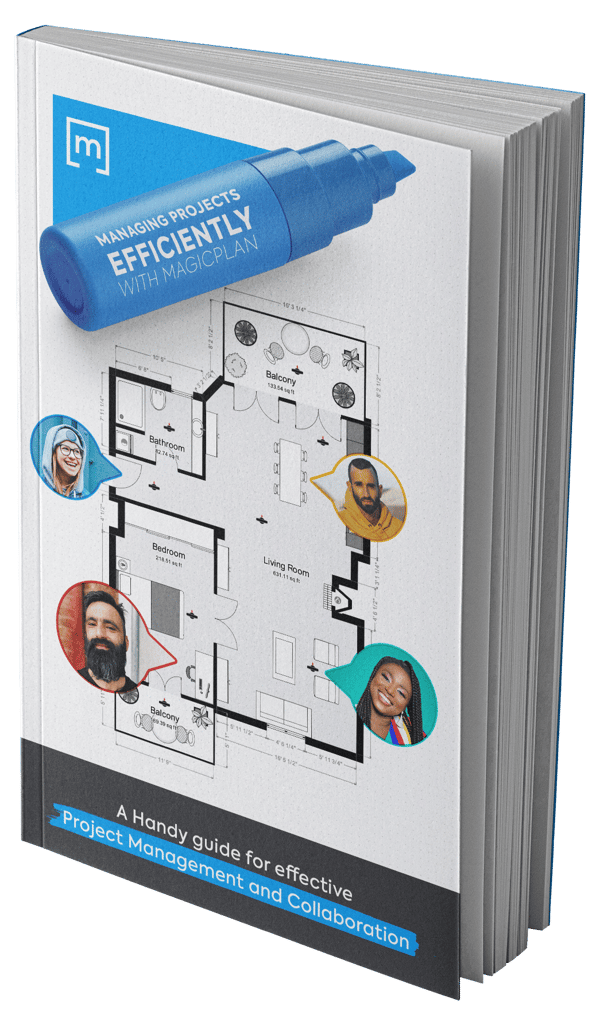 01

Structuring Teams

02

Leveraging Technology

03

Project Management Optimization

04

Customer Experience

05

Providing Value
Structuring Teams for Residential Projects
Navigating a residential project demands an effective team structure and streamlined management. In this first part of the guide, we'll break down the key stages of a project lifecycle, underscoring the role of collaboration. Using real-world examples, we'll demonstrate how to optimize team dynamics and ensure project success.
Leveraging Technology
The modern landscape of residential project management is complex, filled with numerous challenges. That's why businesses are increasingly realizing the need for more efficient tools. Let's explore how leveraging technology can transform these pain points into opportunities for growth.
Project Management Optimization
Project management is at the heart of any successful business operation. With multiple tasks, stakeholders, and variables to juggle, it's an intricate dance that requires finesse and precision. The more you can streamline and automate the process, the more time, effort, and resources you'll save. Let's explore how magicplan transforms project management to make it more efficient and effective.
Enhancing Your Customers' Experience
The essence of any business is the value it brings to its clients. But what does it mean to create value, and how can it be achieved? It's a journey that goes beyond delivering a product or service; it also involves building relationships, exceeding expectations, and leaving a lasting impact. Here's how you can create unparalleled value for your clients by using magicplan.
The Magic of Providing Value
By focusing on your clients and making a real effort to offer something meaningful, your business can change and grow. Providing value isn't just about selling something; it's about building trust and making clients happy. With that in mind, let's recap how incorporating tools to help you work smarter, not harder, can elevate your approach:
GRAB YOUR COPY FOR FREE 📘